---
---
Fashion can sometimes be rather stripped-down and bare-naked. If you look at the runway shows, warm and fuzzy winter warmth is not the first thing you think about. This doesn't mean you need to pick the first woolly items and you're good to go. Winter is full of fashion trends and we've picked the must-haves for this year. The following trends are inspired by the runway, yet will create a practical look to keep you warm and fashionable.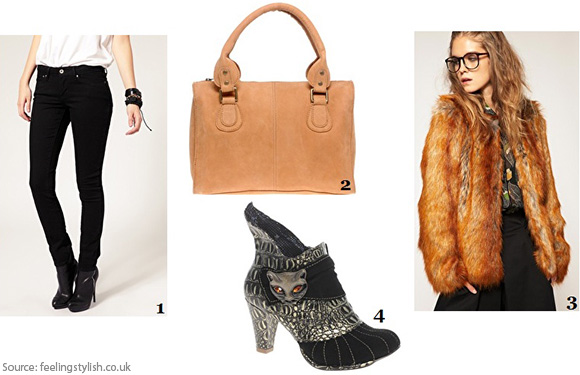 Ski Jackets To Keep Warm
The winter's jacket trend is all about retro warmth. The big, waxed ski jackets have made a comeback – whether you like it or not. The style is definitely warm and the colours are toned down enough to ensure you don't feel out of place walking to the office, wearing a ski jacket from Roxy. That's right; the trend is not for the slopes, but ski jackets are used as part of your everyday look. You can easily style it up with your business suit and high heels. It, of course, will work with ripped jeans and a hoodie as well.
Turtlenecks and Dresses
A killer combination for the winter comes in the form of a turtleneck and a dress. The look has been rocking the runways and it makes fashion accessible for everyone. Get your hands on some basic turtlenecks in your chosen colours from TK Maxx and don't forget to pick a few dresses. The dress can be long or short, sleeveless or with sleeves, just make sure the turtleneck has a bit of room to show itself from underneath. For extra elegance, pick the dress and the turtleneck is contrasting colours.
Puffer Coats
If you are not interested in the sporty look of the ski jacket, you can pick up a puffer coat instead. This fashion reject is finally a trendy pick for a woman's wardrobe. The style does come with a twist – you shouldn't just pick your old puffer coat from the cupboards. Winter's fashion rulebook requires you to opt for something flashy or feathery. Metallic shines are definitely a big hit – the great Vivienne Westwood had luscious golden puffer coats on her runway. Consider a metallic puffer jackets from Urban Outfitters for a budget-friendly pick. Going out has never been more fun – just wear your little black dress with a shiny puffer coat and you'll turn heads.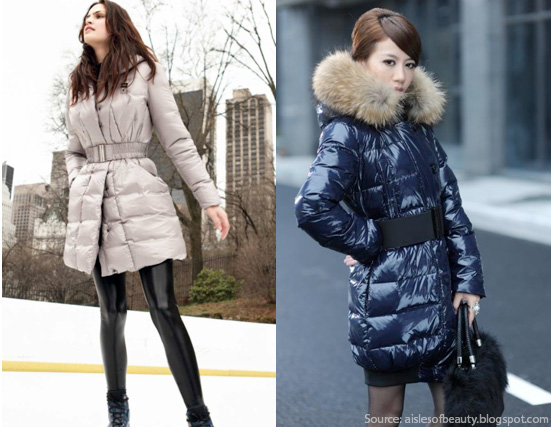 Faux Fur Stoles
Stoles are making a comeback this season and we're happy about it. They are beautiful, elegant and so-deliciously warm. You should use your stoles by draping them on the diagonal or attaching them to your lapel as a faux collar. While fur options are also available, the season's fashionista will get the stoles in faux fur.
Extra-long Sleeves on Shirts
You don't need to wrap up in a warm scarf this winter – you can just use your own sleeves. Extra-long sleeves on shirts are here and they can be more practical than you think. There's nothing better than having your hands fully covered inside a lovely shirt, ready to pop out when fingers are needed. So, you could ditch the gloves this season and get covered with the help of your sleeves. Extra-long sleeves are part of the style of Banana Republic, for instance.
Leggings
You might have thought the era of the leggings has long gone, but you'd be wrong. The runway launched the comfortable pant style back. Winter fashion is combining leggings with dresses and skirts, creating a look that is stylish and warm enough for the season. Leggings are not meant to shock this winter, so opt for classic colours such as black and navy. You can also use burgundy or soft emerald green. You can find great leggings from Everything 5 Pounds to finish off your winter fashion wardrobe.
Platform Boots
When it comes to the shoe trends, platform boots are back with a bang. We're talking about the Spice Girls style boots, with whacky designs and dizzying heights. If there's snow this winter, you'll definitely avoid it ruining your toes. If the weather sucks, you should pick leather-finished boots from House of Fraser. On the other hand, for a night out or the perfect, sunny winter day we recommended velvet boots for additional glamour touch.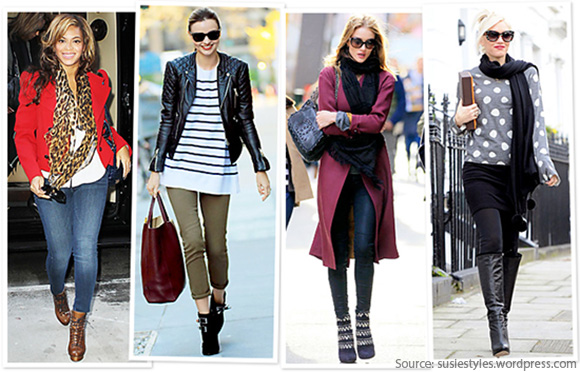 Trooper Hats
The trend is definitely best used by Louis Vuitton when he marched his enormous oversized trooper hats down the runway. You might not have the budget for the model or you might not find it comfortable enough to fit into your Mini in the morning, but a trooper hat is a must-have. The furriness of the hat, together with the warm materials, guaranteed to keep you warm and happy.
The above fashion trends have been part of the runway and now it's time for you to add it to your wardrobe. You can pick from the above examples or check the high street for more options. Just use the winter discounts to your advantage and you'll look trendy and warm this cold season.