---
---
Fitness gadgets have been on a boom in recent years and the demand for them has only grown exponentially. Right from keeping a track of your calories to helping you stay in shape, fitness gadgets today are capable of getting these done for you. Some might even argue that fitness gadgets are slowly even becoming a replacement for gyms and even personal trainers. With so many options and choices available in the market today, it definitely becomes a task of what to get for yourself. But, worry not. We are here to help the best way we can. In this post, we have tried compiling a list of the top 5 fitness gadgets that you should own in order to get that summer bod you have been wishing for:

1. Fitbit Versa 2 Smart Watch:
When we talk of fitness gadgets, we can't really ignore the impact Fitbit has had since its first launch back in the year 2009. A decade later and multiple versions, Fitbit has not just refined itself but has now become an instrumental tool for all fitness enthusiasts looking to keep a track on their body activity. You can track a myriad of things with the Fitbit including the calories you have burned, your sleep quality, hydration levels, heart rate monitoring to name a few. You can even get your fitness scores depending on your gender and age. The best part about the Versa has to be its battery life which now the company claims at a minimum 5 days on an average charge. It also boats a new OLED screen and you have Alexa in built for users. There's not much to complain here, really.

2. Wattbike:
If you are someone who prefers indoor training and investing in interactive gear and gadget then the Wattbike should be definitely on your list. With the lockdown and quarantine in effect, this is a more feasible option for one to train and shed those extra flab. Standing at only 44 kgs, this is a machine that definitely requires some space of its own. Unlike standard options available, Wattbike is a straight up, no nonsense tool with modern features. The gears, pedalling and resistance is smooth and you have structured workouts to choose from whilst using the Wattbike. There is also option of making quick elevation changes. You can also use the Wattbike app in conjunction whilst using the machine for better tracking availability.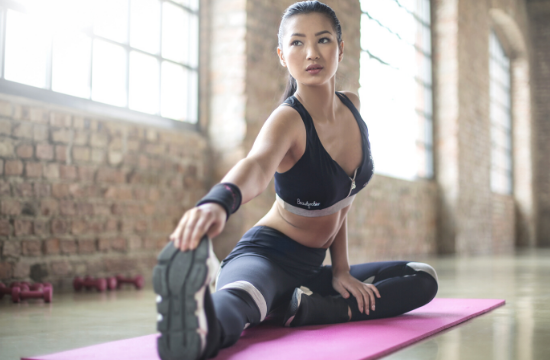 3.  Tangram Skipping Rope:
If you thought skipping ropes couldn't get any better beyond their conventional usage, then let us assure you that this notion is quite wrong. Because with Tangram, you have all the features of a standard skipping rope but with a modern touch. The gadget helps you display your fitness data with a smart LED light display that's present in the rope itself. How it works is that the LED lights up every time the rope rotates around you. This more or less helps create a single floating display whilst you are working out. You can also now store all your fitness data and come back to it to check your progress. Sitting at home in quarantine isn't easy and working out can provide a respite from that. eBay is now doing a fitness sale and is offering up to 40% off on all fitness products.

4. JaxJox Kettlebell Connect:
Another new gadget that has recently come in the fray is the kettlebell. Well, at least a better and again a modern version of it. The JaxJox Kettlebell is a six in one, yes you heard it right. This is a six in one adjustable kettlebell helps you add and drop weight with a few clicks. Users have a selection from 5 to 19 kgs to choose from which you can use as per your ease and comfort. There is also built in sensors that can help you track your exercises. Not just individual workouts, you can also indulge in group workouts. Are you looking to start on your workouts at home but don't have necessary things required? Well, you are in luck. Millet Sports is now providing 50% off on its end of season sale.

5. NURVV Run:
For runners, the market is filled with a number of options but in recent years, the focus of it has changed to getting the basics right. This is where NURVV Run also comes in the picture. From amateur to experienced runners, the gadget makes use of biomechanics that collects your data on multiple parameters including your foot strike, asymmetry, step length, pronation etc. There is also a coaching app that you can make use of simultaneously. It helps you provide proactive measures and suggestions to get better and balance your training load overall.


So, there we have the top 5 gadget essentials for fitness enthusiasts out there. The right fitness gadget combined with your dedication and perseverance can work wonders.