---
---
Running has been an integral sport since medieval times, and today more and more people are embracing it. Unlike yesteryears, today, we have an option to log metrics and even make attainable personal goals. While going old school is okay, but with the technology and gears available today, it makes sense to make use of running gadgets to your advantage. Training harder is good, but training smarter, even better. In this post, we have tried giving you a fair idea about some of the best gadgets that can help you train better. While the market is filled with a number of options, we have tried narrowing this down to a bare minimum or as well call it, only essentials.
 1. Garmin Forerunner 45S:
If you are looking for a entry-level watch that is a perfect companion for your daily runs, then look no further than the Garmin Forerunner 45S. Unlike other tracker watches, you can track exactly your runs and check other basic details, including heart rate, pace, preprogram interval workouts, and a variety of other features that will definitely help you stand out and improve your performance.
2. Flipbelt:
While watches are something of a typical scene in the gadget market, there is but a product that is an absolute standout and one of the simplest running kits around to have for a runner. This comes in the form of the Flipbelt to have every single thing that you need during your run tucked comfortably around you. Contrary to popular reviews, this isn't a fanny pack that comes with buckles and straps for you to help run. This basically sits flush against your skin so there will be as such no bouncing around of your things with the Flipbelt. The makers also ensured that there aren't any zips or latches in the gadget that could be problematic and cause any skin irritation. Definitely something worth a buy if you are a runner. Looking to amp up your running gear? Then you definitely shouldn't miss ebay's new fitness sale that is currently offering up to 40% off on all fitness products for both young and old.
3. Lumo Run Senso:
While you will find a number of gadgets that help you calculating different variables whilst running, there is one that is a form advice coach of sorts. This means your own personal companion is helping you out with different approaches to your running. You have a gyroscope, vibration sensor, accelerometer, and other features which measures intricate details like your bounce, brakes applied, pelvic movement etc. If that weren't enough to get you excited, you also get personalized tips including live audio coaching that will help you with your run stance. Something you should have in your arsenal, perhaps? While the sensor will get its job done, it is also your job to get the best for your two feet. Now, head over to Millet Sports and get a look at their latest collection of running shoes. The company is offering 20% off in all running shoes. Grab yours today.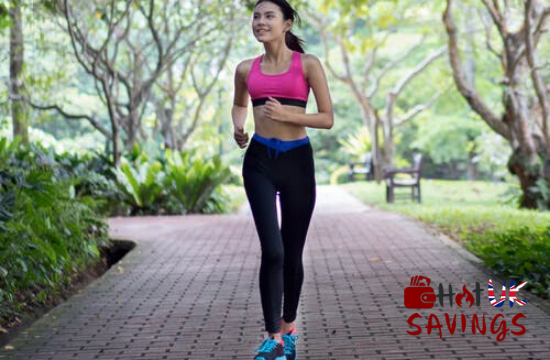 4. Smart Insoles by Nurvv:
Running is an activity which is as physical as it gets and there's always a chance that you would get injured while running. Is that something you can control? If you are to believe this company, the answer is yes. Nurvv has recently showcased an insole that helps analyse your gait that comes with more than 16 pressure points and beams. This is directly connected with your smartphone and comes with a live coaching feature to help you every step of the way. From teaching you basic running stances to tweaking and improving cadence, these insoles will help you do it all.
 5. Aftershokz Trekz Air:
This is a gadget made for workouts, and the sweat-resistant bone conduction headphone comes at only 30g. Uberly light for any kind of running and physical activity. The absence of wire means, no problem with entanglement or pulling your earbuds out every single time. The earphones come with six hours of music on a 90-minute charge. This is more than enough to last you a marathon and still have some time sparing to do your chores. The headphones come with a durable titanium frame as well as a wraparound band, which is more than enough to take a beating and wear and tear without compromising on quality. You can find the headphones on the majority of websites, including the company's as well as Amazon.
So, there we have a small collection of the five best gadgets that every runner should have on themselves. So whether you are training for a short run, triathlon, marathon, or even ironman, you can make the best use of technology to your advantage and get that winning edge by your side—happy running.